touchbound_system:locking_unlocking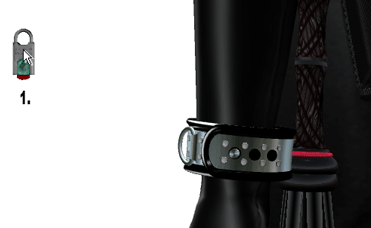 Locking and unlocking objects using the touchbound system is a little different from other bondage systems, but it's easy, intuitive, and most important, fun!
Touchbound products use a padlock system, the logic is that anyone can snap a padlock shut, but only the person who has the key can open it. The touchbound system tries to simulate this behavior in order to allow interesting mechanics, such as self bondage or publicly available slaves.
How to lock:
You have to be close enough (10 meters) or you will receive a message that you are too far away.

When the main lock of an object is shut, the object cannot be detached without triggering an alarm message ( with a vanilla viewer ) if you are using a RLV compatible viewer it will simply make the object impossible to detach and uneditable.

If a chaining ring is padlocked, it becomes "frozen" in it's current state: If there was no chain, no one can draw a chain from it and if there was a chain, nobody can remove that chain without removing the padlock first.
touchbound_system/locking_unlocking.txt · Last modified: 2017/04/04 10:35 by 127.0.0.1
---